Ref: Wheel Pulse Transducer
Hoch Auflösung Drehratenerfassung an Fahrzeug-Rädern
Easy Installation
Encoder wheel speed sensor
Up to 1024 ppr
Available with or without weatherproof seals
Circular connectors on stator and rotor
Sealed, corrosion resistant metal housing
Lightweight and compact
Used in: Speed Testing, Vehicle Brake Testing
Presentation
The High Resolution Wheel Pulse Transducer Assembly is used as rotation sensor mounted outboard of a vehicle wheel. The rotation sensor is used to measure rotational velocity, angular position, and direction of rotation. The assembly consists of electronics in a rugged housing, which is attached to a wheel plate and mounted on the customer wheel using collet lug extensions.The output signals generated by the sensor can be use to determine wheel speed, acceleration, distance, and vehicle speed.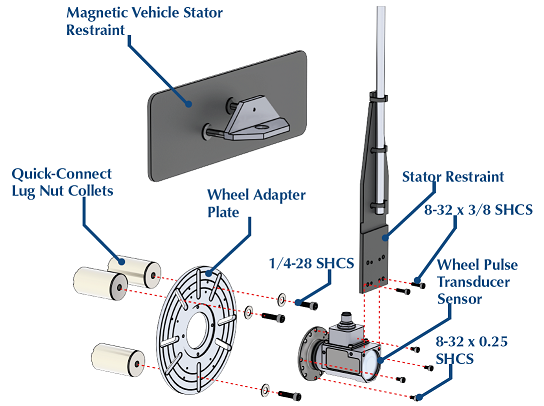 The WPT is very rugged and has been designed to accept contacting rotary seals. Units ordered with these seals are weatherproof with an IP67 rating. For higher speeds in dry conditions, order units without the contacting rotary seals.
Encoder Signal
Application
Like many of Michigan Scientific's products, the High Resolution Wheel Pulse Transducer instrumentation package is designed to be used on a variety of vehicles in many different testing applications. It is the optimal tool for determining how far a vehicle has traveled, how fast the vehicle or wheels are going, and how fast the vehicle is accelerating. The output signals from the WPT are used for analysis in acceleration and braking tests as well as ABS testing. This is crucial when determining the tractive contact a vehicle has with a surface during .
These systems are commonly used during autonomous and electric vehicle development and weather testing in standard customer vehicles. Having an accurate measurement of wheel speed and distance traveled is also important for mapping for vehicle GPS and navigation systems. Wheel Pulse Transducers provide reliable measurements to aid in vehicle innovation.
Ausführung

SR/ERT

Connecteur standard

Anzahl an Bahnen

0

Betriebstemperatur

-40 zu 100 °C
Encoder
Wheatherprrof sealing