Ref: FO-LIN & FO-LIN-R
EM Hardened LIN Transceiver Link
Bi-Directional link
Can be used with K-Line, L-Line, and KWP2000
50 hour battery life with 3 AA alkaline batteries
Data rate range from 1 kbit/s to 20 kbit/s
The FO-LIN and FO-LIN-R modules combine to create a robust and versatile multichannel solution. In addition to LIN compatibility, the units can be used with K-Line, LLine, and KWP2000. The bi-directional link supports rates of 1 kbit/s up to 20 kbit/s with up to 50 meters of fiber-optic cable.

You will not have to interrupt tests to recharge equipment because a battery run time of more than 50 hours will exceed even the longest tests. The FO-LIN modules are compatible with 'AA' sized alkaline batteries for easy replacement, or for a more cost effective option rechargeable batteries may be used.
FO-LIN modules have integrated filtering to ensures signal integrity.
In addition, the FO-LIN module shielding provides high immunity from electromagnetic interference (EMI) and electromagnetic pulse (EMP), while providing low radiated emissions. This allows for uncompromising electromagnetic compatibility (EMC) testing/engineering. The FO-LIN modules are validated for EMC up to 200 V/m (46 dBV/m) at 500 kHz to 18 GHz, and 600 V/m (pulsed 5 % duty-cycle, 5 μs rise-time) 1 GHz to 2.55 GHz.
Specification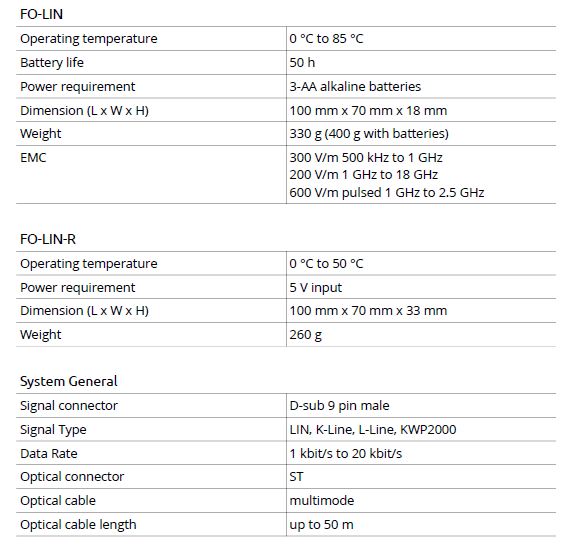 1